Curiosity at International School Utrecht means being excited about lifelong learning, skills and knowledge development and the discovery of new things. Our curiosity shows our open mindedness, respect for diversity and going beyond the surface.
Connection at International School Utrecht means belonging, being included, feeling involved, seeing and making links between learning and life. We are more than a school, we are a learning community for curious minds and adventurous hearts to connect, learn and grow.
Compassion at International School Utrecht means being kind, empathetic and aware of individual values, contexts and needs to engage in meaningful conversations to support one another. Well-being is key to ensure we can all thrive.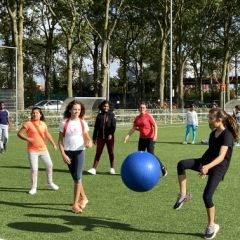 Get ready to learn and uncover your talent.
Find out what and how our students learn and discover what a day at our school looks like.
Admissions: How does it work?
Get in touch
We would like to get to know your child(ren).
Submit documentation
If our school is the right fit for your child(ren) we will ask you to upload personal information in OpenApply, our admission portal.
Application review
We look at your documentation to make sure that there is a good match between the school's education and provision and your child(ren)'s needs.
Welcome and onboarding
After the application we will let you know if we can welcome your child(ren) and invite you to the official onboarding.
Join our staff.
Become part of our diverse staff community. Your skills are welcome to help our students grow and develop.