Curiosity at International School Utrecht means being excited about lifelong learning, skills and knowledge development and the discovery of new things. Our curiosity shows our open mindedness, respect for diversity and going beyond the surface.
Connection at International School Utrecht means belonging, being included, feeling involved, seeing and making links between learning and life. We are more than a school, we are a learning community for curious minds and adventurous hearts to connect, learn and grow.
Compassion at International School Utrecht means being kind, empathetic and aware of individual values, contexts and needs to engage in meaningful conversations to support one another. Well-being is key to ensure we can all thrive.
Frequently asked questions
Good to know before you apply.
Before applying to ISU, please look at these Frequently Asked Questions, to prepare yourself for the application process.
What permit do I need to work in the Netherlands?

You either need an EU passport or a work and residence permit for the Netherlands. Sometimes you are allowed to work under a partner visa (if your partner is already working in the Netherlands).
How do I get my teacher qualifications recognised in the Netherlands?

Because we are a state funded Dutch International School, the ministry of eduction, represented by DUO, needs to recognise your teacher qualifications. Please refer to the DUO website for:
What does a suitable candidate look like?

At ISU we are looking to recruit staff with an international background, or international experience, experience with the International Baccalaureate programmes and a good command of English.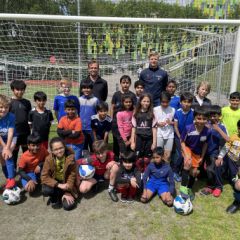 We take safeguarding seriously at International School Utrecht.
As a CIS accredited school we meet the highest standards when it comes to safeguarding and child protection. Employees at ISU all need to provide a Police Clearance Certificate regarding working in education or the Dutch equivalent, which is called VOG (Verklaring Omtrent Gedrag) upon employment. In the final stage of our recruitment process we do a reference check. We therefore ask future employees to provide us with professional references.