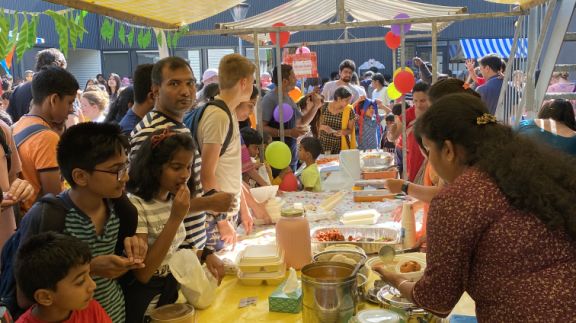 Join us
Parent Support Group
How to get involved.
We are always looking for parents who want to join our fun PSG event committee. Parent volunteers help out with organising various events, ranging from monthly coffee mornings to parent outings to visiting the Christmas market in Dordrecht, or the Keukenhof to family events such as Halloween and the Avondvierdaagse. It is a great way to meet other school parents and familiarise yourself with Utrecht and the Netherlands. You can reach out to the PSG via psg@parent.isutrecht.nl.
Parent volunteers at ISU
There are various volunteer roles for parents within the school:

New Parent Connectors. These are volunteer parents who assist new families with basic school and community questions. We try to connect families who are new to our school with a parent, preferably with a similar background in countries, languages and/or children's grades. If you are new to the school and would like to connect, please send an email to: npc@parent.isutrecht.nl
Class parent representatives. Each primary class has at least one parent who works closely with the classroom teacher and the PSG throughout the year. Class parent representatives liaise with all the parents in the class, to find volunteers for various class activities and excursions. The PSG is currently working towards setting up a grade parent role in secondary.
Class volunteers. These are volunteer parents who help in the class with for example guided reading, class decorations and festivities. They might also accompany the class on an excursion.This is a fantastic way to engage with your child's class and meet other parents.
Should you be interested in any of the above roles, please reach out to: psg@parent.isutrecht.nl.
ISUtrecht has a Participation Council that conforms to the Dutch participatory model for schools. In this official body staff, parents and students have a voice and play an advisory role for certain areas of school vision and planning.