ByIngrid Schmoutziguer, communications
Our student were invited by NUOVO scholen who organised this festival for all 15 NUOVO schools within and around Utrecht. Students between 12-17 years old from varied types of secondary education worked together for a whole week.
This was the invite from NUOVO:
How great would it be if students could spend a week working on actual issues in the city and region of Utrecht? To experience in a real-life context how they can influence their environment in a democratic way? To step out of their bubble to work together with students from a different social and/or cultural background?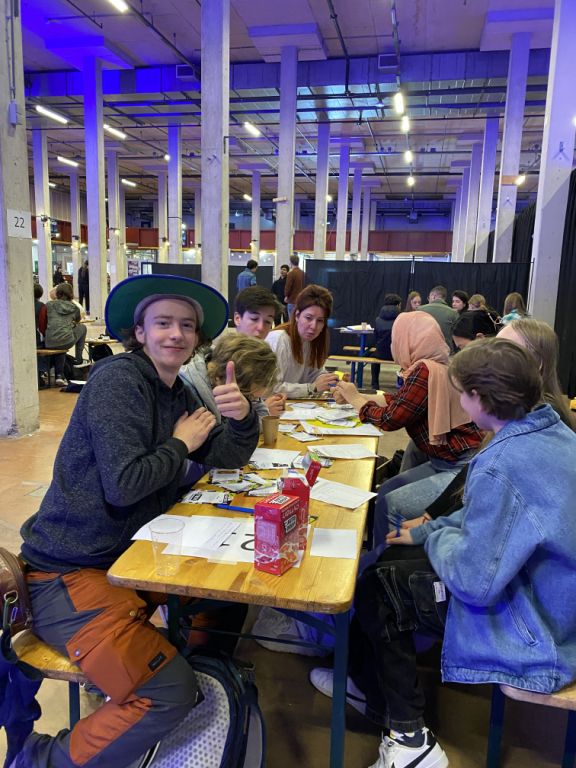 We are very proud of our students, who were confident enough to work with students from other schools they never met before, speaking Dutch as well for the entire week! Although our students who participated aren't all native Dutch speakers, they are all in the Dutch Language & Literature classes.
FC Utrecht, Bol.com & TivoliVredenburg
This was the first edition of U-DECIDE, a weeklong project involving 200 to 250 students from all NUOVO schools working together on current issues in the Utrecht Region. The goal: to promote equal opportunities, to stimulate civic education and to gain experience with practice-oriented education. Clients such as FC Utrecht, the Netherlands Film Festival, Bol.com and TivoliVredenburg contributed the issues that the students will be working on.
The students met every morning in Karma Kebab, a large (and rather cool) venue not far from our school. From there, students cycled to meet with their clients such as FC Utrecht, the Stadsschouwburg, the Economic Board Utrecht or Vodafone. They also took part in various workshops, acquiring research, interview or presentation skills, needed for their projects.