By Poyee Li-Sumptom, grade 8 mentor and Design teacher and grade 8 students
On the first day, we immersed ourselves in ancient history at Archaeological Park Xanten. Landschaftspark Oberhausen showcased transformed factories, followed by a captivating visit to the Gasometer Exhibition. The day ended with a friendly competition at the bowling alley.
Day 2: Sports, Cultural Exploration, and Tower Views
We started the day with an exclusive tour of BVB Dortmund Stadium, exploring the 'Yellow Wall' and the vast architecture this stadium brings us. Students could experience how the atmosphere would be during a match. Afterwards, we explored Düsseldorf through a treasure hunt and finished the day at the Rheintower, which offered a breathtaking 360 view of Düsseldorf.
Day 3: Climbing Challenges, Cultural Insights, and Aquatic Fun
The morning of Day 3 was filled with adventure as students split into groups, with one group embarking on an exciting climbing adventure in Velbert, testing their physical abilities and teamwork. The other group enjoyed an informative guided tour at Zeche Zollverein Essen, gaining insights into the coal mining history and industrial heritage of the Ruhrgbiet. The groups met for lunch and then swapped activities.The day ended with a visit to Centro Oberhausen and a refreshing swim at the Aquapark, providing relaxation after a day of exploration.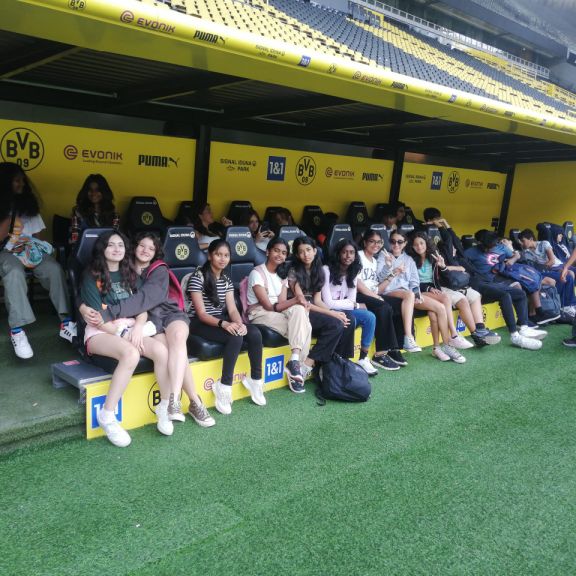 Day 4: Thrills and Adventures at Movie Park Bottrop
Our grand finale unfolded at Movie Park Bottrop, an amusement park that promises excitement and fun at every turn. Thrilling rides and attractions awaited our students, offering an adrenaline-pumping experience like no other. From heart-pounding roller coasters to enchanting interactive encounters, our students were captivated by the seven different TV show-inspired areas that offered plenty of excitement in the park.
Student Highlights:
Avyukt shared his excitement: "Grade 8 Camp was much fun! Boring things like bus journeys to our destinations were instantly entertaining since we listened to music and had the most odd and humorous chats. We enjoyed the amusement park since it allowed us to spend more time with our friends and become closer to them. We raced down thrilling water slides at the aquapark. There was one slide that seemed like you were travelling through a rainbow, and at the amusement park, we misjudged some attractions that were incredibly fast and made our stomachs spin."
Aarav added, "The Aqua Park was my favourite, filled with laughter and new experiences, including a thrilling 3-person slide."
Aditri said, "Climbing was a blast, and the bus rides were fun with friends."
Heidi, another Grade 8 student, shared her thoughts: "The trip was enjoyable, and the activities were well planned. I enjoyed the climbing and the visit to the aqua park as both of these activities involved fun tasks and experiences."
Many students agreed that the long bus ride was quite lengthy at times but also offered the chance to come together as a class.
Our school trip with G8 has been a brilliant experience, filled with thrilling adventures, deepening friendships, and unforgettable moments.